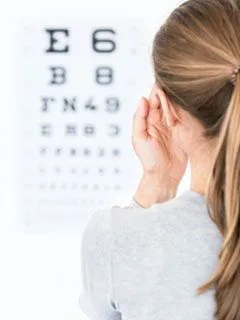 At Luke Eye Associates, we're committed to providing the advanced eye care residents in Midland and surrounding communities need for optimal vision and eye health. Our Midland optometrists offer eye care services for the entire family, ranging from comprehensive eye exams to prescription eyewear, management of eye diseases, myopia control, contact lenses and more. Here's what you can expect from our dedicated optometry team.

Eye Exams
During a comprehensive eye exam, we will assess your eye health and vision to ensure you're enjoying the best possible sight. We test for visual clarity, eye-focus, and eye teaming skills to detect weak areas in your vision. If you show signs of myopia, farsightedness, or astigmatism, we'll prescribe corrective lenses to improve your sight. We carry an extensive inventory of prescription eyewear to suit all prescriptions, tastes, lifestyles, and budgets. You'll have no trouble finding the perfect eyeglasses for anyone in your family.
Pediatric Eye Exams
Through pediatric eye exams, our Midland eye doctors can uncover eye conditions common in children, such as lazy eyes, crossed eyes, and myopia, for immediate treatment. We recommend you schedule your child's first eye exam at six months old to catch problems as early as possible. Another exam can be scheduled at two years old and five, right before your child starts school. We offer myopia control services for nearsighted children to help slow down the progression of this condition.
Contact Lenses
If you prefer contacts, you'll find just what you need at our optometry center. We carry rigid gas-permeable (RGP) contacts, standard soft lenses, daily wear, extended wear, and disposable contacts to suit your personal needs. Our Midland eye doctors also perform contact lens exams and fittings to ensure your contacts are perfectly suited to your visual needs.
Management of Eye Diseases
Our optometry specialists will accurately diagnose eye conditions and diseases like glaucoma, macular degeneration, and cataracts and help you manage their symptoms to preserve your sight.
LASIK Surgery
LASIK is a surgical procedure that corrects refractive errors by reshaping the cornea of your eye to give you clearer sight. LASIK eliminates the need for prescription glasses or contacts to improve your vision. At Luke Eye Associates, we offer pre- and post-op care for LASIK surgery. We'll assess your eye health and vision to determine if you're a good candidate for this procedure, recommend a specialist for your surgery and monitor your post-op recovery.
See Our Midland Optometrists for Quality Eye Care
For quality eye care services you can trust, contact Luke Eye Associates in Midland at (432) 234-1795. We're your one-stop location for all your eye care needs.